Alaska Salmon Run Timing
The Deshka River & Little Susitna River
This reflects approximate Alaska salmon run timing for the Deshka River, tributaries of the Big Susitna River and the Little Susitna River, which are the primary locations that we fish. These Alaska salmon run timing estimates are based on patterns of fish returns in recent years and are NOT exact. We provide this run timing estimate as a guide for our guests to assist them in planning their Alaska fishing adventure and to pick the best time for salmon fishing in Alaska dates during the peaks of the salmon runs. This chart is for Wasilla area rivers.
Alaska Salmon Run Calendar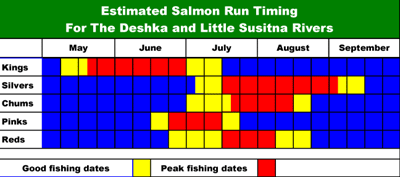 Alaska Department of Fish and Game Weir Count Data
The Alaska Department of Fish and Game provides helpful salmon run timing information, Alaska salmon run charts, and weir count data for King (Chinook) salmon and Silver (Coho) salmon returns on many Alaska rivers including the Little Susitna River and the Deshka River. We have provided a link below so you can view the Alaska salmon run timing data and Alaska salmon season dates for yourself.
NOTE: For planning purposes, remember that the Alaska salmon run timing charts and weir count data that you will see reflect counts taken at points many miles upriver from the places we may fish. What that means to you is that the salmon may be available in large numbers in the lower portion of a river days and weeks before they move up and cross the weir where they are counted by the Alaska Department of Fish and Game biologists.
Alaska Salmon Run Timing