Types of Alaska Salmon We Catch On Our Charters
There are five species of Alaska salmon that run in the local area streams that we fish. While there are times in throughout the season that our guests have a chance to catch all 5 species, we primarily target two of them: King Salmon (Chinook Salmon) and Silver Salmon (Coho Salmon). Each of the five species of Alaska salmon have two common names which has been the cause of confusion to many people. If you throw in the Latin and scientific names you can really get confused! Here's a list of the proper names and common names of the salmon that run in this area:
Chinook Salmon – King Salmon
The Chinnok salmon (Oncorhynchus tshawytscha) is the Alaska state fish. It's perhaps the most sought after sport fish in Alaska and is also very important to subsistence and commercial fisherman. Locally known as King Salmon, they are the largest species of Alaska salmon that frequent Alaska rivers.
The largest king salmon on record was caught in a fish trap close to Petersburg, Alaska in 1949. It weighed 126 pounds. The largest king salmon ever caught on rod and reel came from the Kenai river in 1986 and weighted in at 97 pounds.
Every river system has slightly different genetics and the average size and weight of king salmon varies depending on the location. The average king salmon we catch on the Deshka river ranges between 18 to 25 pounds but can reach up to 50 pounds. The Little Susitna river king salmon generally average a few pounds heavier.
The local rivers we fish have good king salmon runs that provide opportunities for our guests to catch fish.  Our primary river, the Deshka, has the highest numbers of annual king salmon returns of any local area stream. The Deshka River has a fish weir operated by the Alaska Department of Fish and Game that provides daily fish count totals throughout the season. Learn More About King Salmon
Coho Salmon – Silver Salmon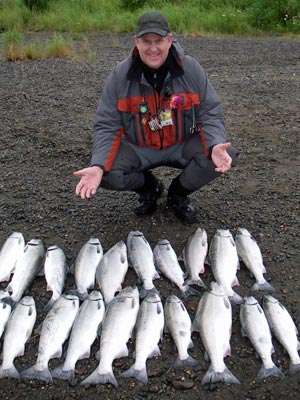 The Coho Salmon (Oncorhynchus kisutch Walbaum), also locally known as silver salmon, are plentiful in local area streams. Coho Salmon, locally known as Silvers, generally run in larger numbers than king salmon and can provide for some very exciting Alaska salmon fishing action. They are good biters, aggressive in nature, and tend to run in larger groups which means once we find them we can usually catch them.
Silvers tend to average 6 to 12 pounds with an occasional 14 pound fish. Silver salmon range greatly in size depending where you catch them. Silvers up to 30 pounds have been caught in the ocean. The Deshka River gets a good return of silver salmon each year and the daily bag limit has been 3 per person. This can vary from year to year but the Deshka limit is usually higher that other streams because of good numbers of fish returning to spawn.
Silver salmon tend to provide faster action and more bites than their larger counterpart, the king salmon. Larger numbers and the aggressive nature of these Alaska salmon combine to give our guests plenty of tail walking action and  fun. Silver fishing is great for the whole family and especially for smaller children. These fish are responsible for many grins and giggles!
Find out more about Coho Salmon
Other Alaska Salmon Species We Catch
Chum Salmon – Dog Salmon
Chum salmon (Oncorhynchus keta) have the widest distribution of any of the Pacific salmon. They range south to the Sacramento River in California and the island of Kyushu in the Sea of Japan. In the north they range east in the Arctic Ocean, to the Mackenzie River in Canada, and west to the Lena River in Siberia. Chum salmon are the most abundant commercially harvested salmon species in arctic, northwestern, and interior Alaska, but are of relatively less importance in other areas of the state. There they are known locally as "dog salmon" and are a traditional source of dried fish for winter use. READ MORE
Sockeye Salmon – Red Salmon
The sockeye salmon (Oncorhynchus nerka), often referred to as "red" or "blueback" salmon, occurs in the North Pacific and Arctic oceans and associated freshwater systems. This species ranges south as far as the Klamath River in California and northern Hokkaido in Japan, to as far north as far as Bathurst Inlet in the Canadian Arctic and the Anadyr River in Siberia. Aboriginal people considered sockeye salmon to be an important food source and either ate them fresh or dried them for winter use. READ MORE
Pink Salmon – Humpy Salmon
The pink salmon (Oncorhynchus gorbuscha) is also known as the "humpy" because of its very pronounced, laterally flattened hump which develops on the backs of adult males before spawning. It is called the "bread and butter" fish in many Alaskan coastal fishing communities because of its importance to commercial fisheries and local economies. Pink salmon also contribute substantially to the catch of sport anglers and subsistence users in Alaska. READ MORE
Alaska Salmon We Catch with iFishAlaska